Target Partners
May 30, 2019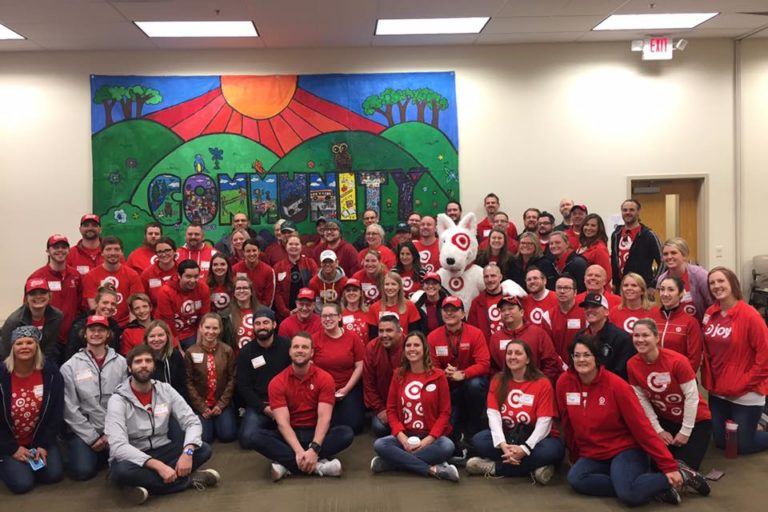 On Wednesday, May 8 Homeward Bound was honored to be a part of Target's Day of Service; a big, exciting day of activity! Hundreds of Target volunteers gather to do service projects at IOCP (Interfaith Outreach and Community Partners). The partnership began nine years with Target building a playground on site.
Because of Homeward Bound's partnership with Target Plymouth, we were invited to be an off-site project. For the past six years, Target volunteers have driven to a Homeward Bound house to donate a few hours to do a special project; they have set up kitchens in two new homes, set up and cleaned after a kitchen renovation and done landscaping. Last year they spruced up Maple Grove house, and this year volunteers came to Saratoga. In the cold and drizzle, volunteers trimmed an overgrown bush and cleared out debris from an entire section of the back yard, cleaned out all the landscaping rock, power washed the entire house and patio, cleaned all the windows inside and cleaned and vacuumed the van!
THANK YOU to Target volunteers from the Plymouth, Brooklyn Park, and Edina stores. Thanks also specifically to Target Plymouth for donating cleaning supplies and planters. We are grateful for our many years of support. A special thank you to Mason Allison, Store Team Lead of Target Plymouth, for believing in our mission! Check out all the photos!
Blog / Spotlight Stories / Target Partners