Sprucing Up
May 25, 2018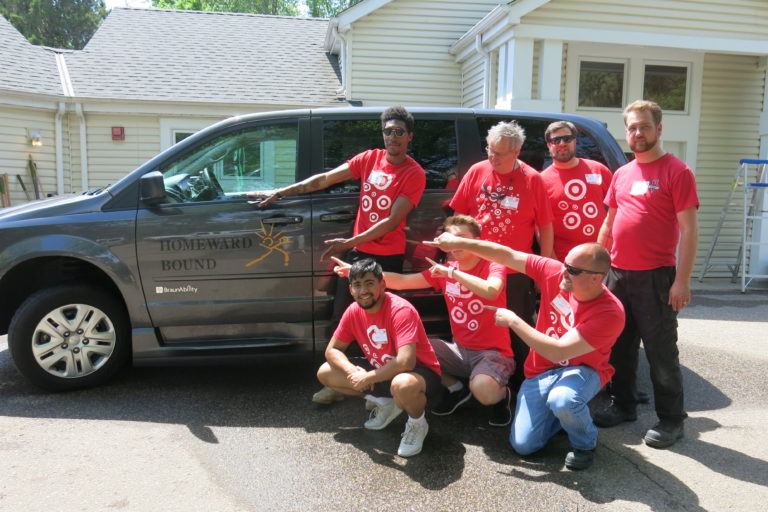 HBI Partners with Target
On Friday, May 18 Target's Day of Service honors Homeward Bound with a big, exciting day of activity!  Hundreds of Target volunteers gather to do service projects at IOCP (Interfaith Outreach and Community Partners).  The partnership began eight years with Target building a playground on site.
Because of Homeward Bound's partnership with Target Plymouth, we were invited to be an off-site project. For the past five years, Target volunteers have driven to a Homeward Bound house to donate a few hours to do a special project; they have set up kitchens in two new homes, set up and cleaned after a kitchen renovation and done landscaping.
This year they spruced up Maple Grove house. Six volunteers cleaned all the outdoor gutters, trimmed bushes, cleaned the patio, cleaned all the windows inside and out, cleaned and vacuumed the van and cleaned out and replanted all the outdoor planters.
THANK YOU to the Target volunteers from the Plymouth, Brooklyn Park, and Medina stores.  Thanks also specifically to Target Plymouth for donating cleaning supplies and planters!  We are grateful for their many years of support!
A special thank you to Mason Allison, Store Team Lead of Target Plymouth, for believing in our mission! Shout out also to Scott from the Target Maintenance Property Team; he has coordinated supplies and volunteers off site to visit Homeward Bound houses for the past five years. Check out all the photos from the day!
Blog / Spotlight Stories / Sprucing Up