Soup & Chili Cook-off
December 4, 2018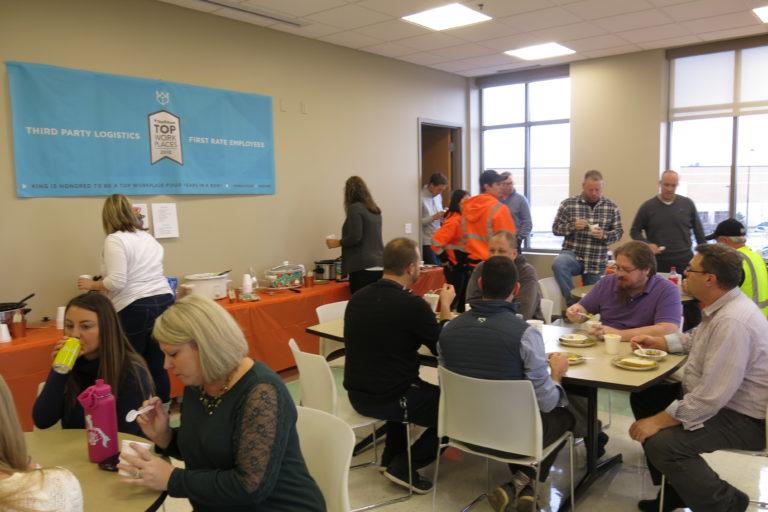 MaKING a Difference
Homeward Bound formed a wonderful partnership in 2012 with King Solutions based in Dayton, MN. King Solutions' community involvement and outreach program, "MaKING a Difference", provides a platform for King Solutions employees to give back. Employees are encouraged to donate time during their working hours to ensure local charities receive adequate support throughout the year.
King Solutions first partnered with Homeward Bound for the holiday season by having a hat/mitten/scarf and decoration collection box in their lobby. In 2013 they decided to host a chili and soup cook off contest with the proceeds benefiting Homeward Bound. This year, the 6th Annual Soup and Chili Cook Off commenced on November 8th. Check out this year's photos!
The noontime buzz was palpable, as employees happily made the rounds with their sample cups and bowls, eager to cast their votes! Once again, they showcased their talents and efforts by making creative pots of goodness! A good variety indeed; even some fun chili branding, like "The People's Champ" and "Best for Last"! Employees made a donation to have the chance to pick the winning entry. The winning chili, The Chuck Norris, was made by Katie Dahlke and the winning soup, Cheesy Bacon Potato Soup Spectacular, was made by Laura Erchul.
Homeward Bound is very grateful for this partnership! Proceeds of over $300 will be used to buy restaurant gift cards for individuals and houses that may not have the opportunity to be visited or visit family this holiday season.
Blog / Spotlight Stories / Soup & Chili Cook-off