NARI Cares
December 6, 2017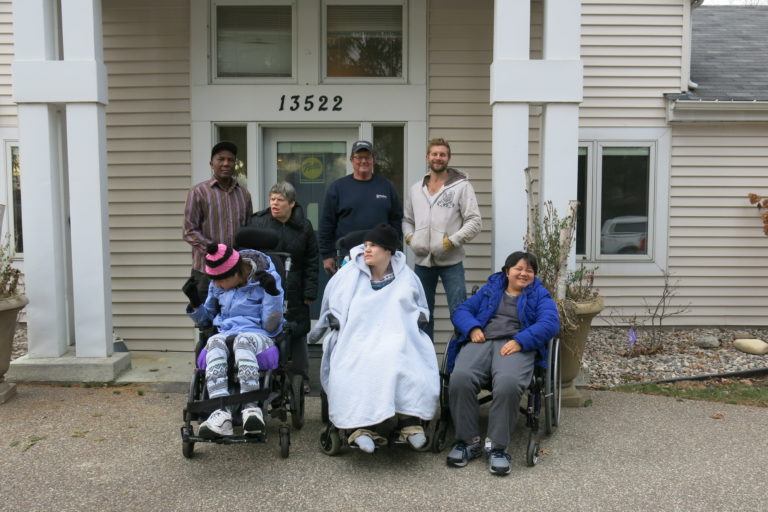 Good Work that Impacts the Community
No one can put a price on 'Home Access". For someone without a disability getting in and out of one's home is taken for granted. The individuals served by Homeward Bound do not have the luxury to take anything for granted especially home access.
The Homeward Bound Plymouth House front door was in need of replacement. The National Association of the Remodeling Industry (NARI) came to the rescue. NARI Minnesota's mission: "To be the primary remodeling resource for professionals and consumers by elevating the professionalism of the remodeling industry".
Each year, The Minnesota NARI Cares Committee picks several non-profit projects. The NARI membership then completes each project. This year, Homeward Bound's Plymouth House was selected to receive a new, wider more functional front door. Many of the individuals who call Plymouth House home have large wheelchairs that used to bump into the front door frame as they came in and out of the home. The individual's hands, arms, legs and feet had to be watched closely by staff assisting them as they went through the narrow front door. Plymouth House now has a front door that is not only beautiful, but also functional.
Thank You NARI Members
Pella Northland gave Homeward Bound a substantial discount on the door and Rossbach Construction donated the materials and labor to install the door. The NARI Cares Committee sought their member participation and helped to coordinate the project.
Homeward Bound cannot thank the generous NARI members enough, for their time, expertise, material, and kindness. This is a wonderful example of the community coming together to make the difference for those in need.
Thank you to NARI Minnesota, the NARI Cares Committee, Rossbach Construction and Pella Northland for completing this important project and for understanding that there truly is no sweeter place than "HOME". Thank you! More photos!
Blog / Spotlight Stories / NARI Cares