Kitchen Renovation
September 15, 2020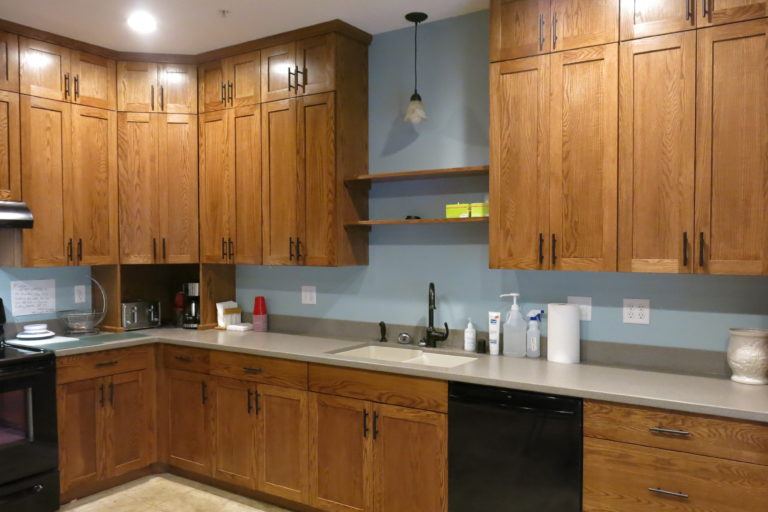 Through COVID-19
What do you do when COVID-19 hits and you are in the middle of a kitchen renovation? "When the going gets tough the tough get going"! In early March, the Independence kitchen underwent demolition. The project to renovate the kitchen and dining area had begun! But then COVID-19 reared its ugly head and unfortunately the Independence kitchen renovation had to stand still.
Our immediate objective was to improve the physical condition of this home and maintain a high standard of quality. However due to COVID-19 this renovation took much longer than expected. The kitchen is 90% complete. The new cabinets, refrigerator, and lighting are in place. The flooring is in hand, but has not yet been installed. The Twin Cities Floor Covering (JATC) Training Center students will be installing the new flooring once they resume normal classes and once Homeward Bound deems it safe to have volunteers in our homes. Our goal is for the flooring to be completed by the winter of this year or spring 2021.
Community Donors
Many community donors have helped us with this kitchen over these many months. Wearing masks and having the kitchen area walled off from the rest of the house really helped as things slowly progressed. The Shakopee Mdewakanton Sioux Community (SMSC) donated a very generous $3,000 to put toward the purchase of new flooring material, new lighting and some new appliances. Century College instructors and students donated the new kitchen design. Saint Paul College instructors and students donated the carpentry, demo, sheetrock, cabinetry building, and installation. Fraser Morris Electric donated the electrical services. We received a discount on the flooring material from Cheney Carpet. Innovative Surfaces donated the counter top and sink, a c carlson appliances donated and the Twin Cities Floor Covering (JATC) Training Center instructors and students will be donating the labor to install the new flooring.
The Real Superstars
Homeward Bound Independence individuals, their families, the extraordinary Direct Support Professionals, and our Maintenance Team (especially Rob Ahonen) all suffered through a very long and complicated renovation. They as well as our donors, are truly the superstars of this story!
As you know, Homeward Bound owns and maintains the houses, but the individuals who live in these houses are the ones who take on the personal pride of ownership and call it home. It is very important for everyone to be proud of where they live and feel as though they are contributing something to the neighborhood and community.
This truly was another example of the community coming together during tough times to help make lives better!
The Homeward Bound Development and Maintenance Departments will continue to work hard to improve the living environments (homes) for those we serve with severe disabilities. It is our privilege. Thank you to all of our wonderful donors, without you this renovation would not have been possible! Check out the entire catalog of renovation photos!
Blog / Spotlight Stories / Kitchen Renovation