In Loving Memory
December 10, 2020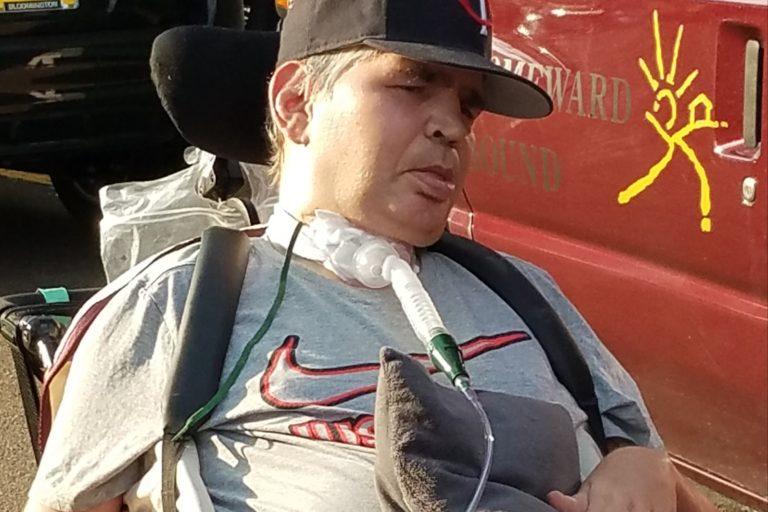 David Stanke
David lived in the New Hope Green House from the time it opened after construction, until he moved to Saratoga. Then he lived at Saratoga until moving to Noble Court, in 2010.
Our dad, Edward Stanke, was a long time board member and advocate for Homeward Bound and along with our mother, Rosemarie Stanke, one of the founding HBI families.
Ours and the other founding families were dissatisfied with the care options available back in the early 1970's – which were basically foster care in homes that were ill prepared to take care of physically and developmentally disabled children or institutions that were equally ill prepared. Out of love for their kids, dissatisfaction with existing options, and the desire to provide the best possible care and environment, a vision for and ultimately the reality of Homeward Bound, Inc. was born and over time evolved into the what it is today.
When I reflect on where HBI started and where it is today and the number of people it has served, I can't help but think of David, the other founding children, and their families as heroes. Because of those special kids and determined families, the developmentally and physically disabled in our community today, have the ability to live enriched lives.
David was preceded in death by his father in 2003 and mother in 2020.  David is survived by siblings James, Thomas and myself and is deeply missed. David's services will be held at a later date. He will be buried next to his parents at Fort Snelling. – Jean Noerenberg (David's sister)
We Will Miss Him
David lived at Noble Court, since it opened in 2010. He shared the house with the same housemates for all of the 10 years.
David was quiet, but very observant of all that took place in the house. He spent time reading with staff, watching television and listening to music. He enjoyed being outdoors and often went on walks with staff in the neighborhood or on outings in the community. David liked animals and frequently visited the local animal shelter. Your quiet presence at Noble Court will be greatly missed David!  Rest in peace. – Teri Ayodele RN/NCM/PM Noble Court
"Special Needs" Poem
They say that I have "special" needs, and while that's partly true, the needs that matter most to me are the same ones you have too. I need to be accepted. I need friends that make me smile. I need a chance to learn and grow, feeling valued all the while. Sure, I need some extra help and some things I can't do, but I hope you'll see beyond all that…Inside, I'm just like you. – April Vernon
Blog / Spotlight Stories / In Loving Memory