Employee of the Month – June 2023
June 1, 2023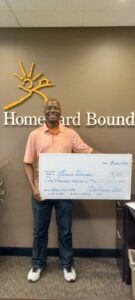 James David was selected as Homeward Bound's June Employee of the Month for his excellent care and support of many people living in different locations!
Nicole and Scott, Operations Administrators, told us James is so nice and positive.  He really cares about the people he supports.  He ensures people get out of the house to do fun activities.  As a Floater, James asked to change his schedule to include every weekend because he knew that was where the need was. He is always willing to train other employees and give direction to staff to ensure the people they are supporting receive person centered care.
Lisa, Director of Nursing, told us she very much appreciated the time when she had a question for James while he was getting medications ready to pass; he politely let her know he needed a minute to finish the medications and that he would be able to talk with her once he was done.  Lisa appreciated his diligence and care to ensure everyone received their correct medications.
James got started in the Human Services field while he was living in Africa during a time of war.  He helped people who were displaced, people who could not walk or talk, and acted as translator for those who did not speak English.  He imagined how life was like for them and wanted to help.  When James came to the States, he started his education in social work and found Homeward Bound.  That was 21 years ago!  He is happy to be at Homeward Bound; "its home". He loves what he does and loves the people he supports.  He treats everyone as though they are a part of his family.  When he gets mandated, he doesn't mind.  He says he takes a deep breath and he focuses on the people who need him.
Providing person centered support is very important to James.  He gains people's confidence through trust and to build that trust, he gets to know each person individually.  He learns what they like to eat, where they like to go, and what they like to do and then he does those things with them.  James loves getting everyone out of the house to do fun things.  At one point he was nicknamed, "The Homeward Bound Taxi" because he was always out and about with people, going to parks, going to ball games, going on walks, and going to watch waterfalls.
James' advice to anyone new to working with people with disabilities is to do it with your heart, love what you do, and be patient.  If you don't know something, ask questions.  It takes a little time for people to get used to you and have trust in you to really care about them.  Have patience with the people you support, have patience with your team, and have patience with yourself as everyone learns how to work together.
Thank you, James!
James received a $1000 bonus and is a candidate for the 2023 Employee of the Year Award!

Homeward Bound's Employee of the Month Program started in January 2023 by popular demand from staff who shared ideas and concerns with HBI management at town hall meetings in Fall 2022.  The selection process is done via blind voting to ensure that the winner is selected only for the exceptional life-enriching care they provide to people.
Blog / Employee Recognition / Employee of the Month – June 2023