Employee of the Month – January 2023
February 14, 2023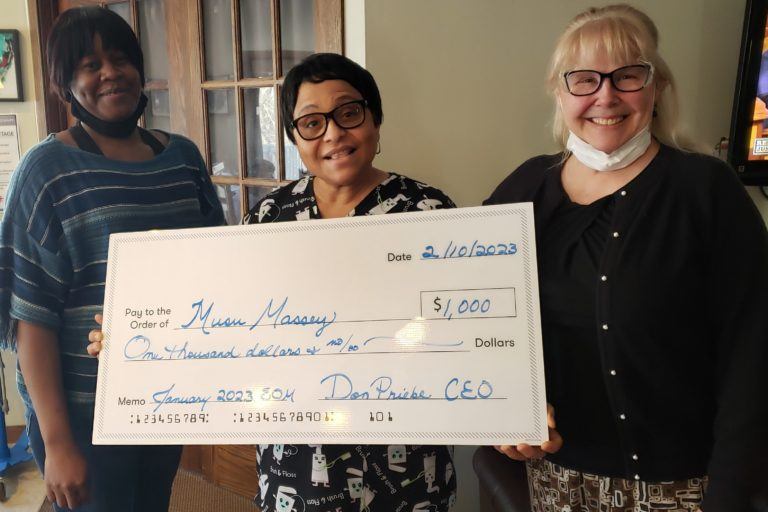 Musu Massey was selected as Homeward Bound's January 2023 Employee of the Month because of the passion she has for caring and supporting the people she serves.  Doris Agu, Noble Program Manager/Nurse Case Manager, tells us, "she is an exceptional worker who goes way beyond their designated duties.  They maintain a positive and caring attitude toward the people she serves and always interacts with them in a   respectful manner.  She engages them in everything and is often seen painting their nails and grooming them with extra    accessories on their hair and clothes, so they always look nice. She usually takes the initiative to take people on outings and haircuts without being asked by a supervisor.  She consistently helps out around the house and often volunteers to difficult appointments.  She truly cares for the people she supports, and you can see that every day she comes to work".
One of Musu's co-workers said she is a "great team worker and makes the tasks seem easier.  She is selfless when it comes to the job and caring for the people she supports.  She makes new employees feel very welcome and special.  She goes above and beyond in caring for the people she supports".
One story Musu shared is how she helps Ricky get ready for bed.  After putting on his pajamas, she combs his hair and slicks it back with gel, applies aromatic lotion, then spritzes him with his cologne.  Staff say to her, "Musu, he's going to bed, why do you do all that?".  Musu laughs and says she does it because she likes to see him looking nice before she leaves. She says, "I like for him to go to bed looking all fly".
When asked what advice she has for people starting out in this field, she said, "to have compassion and be  diligent because if you don't have passion for this job you won't do well.  You can't come here for the money, you have to have passion for it.  You can't be 100% to everyone, but do your best and have compassion and empathy for the people you're working with".  She also said it's important have fun, be happy and goofy at work.
Musu Massey joined Homeward Bound in March 2000.  Her first assignment was at Brooklyn Park Pine Valley as a DSP working M-F 6am-9am.  She became a Trained Medication Passer and was able to administer meds and certain health care equipment such as pommel vests.  She later became a Program Resource Network Specialist (PRNS) working at a variety of homes.  She did that for many years before becoming a Licensed  Practical Nurse (LPN) in June 2018, which is when she transferred to the Noble Court home.  Musu had always been interested in the medical field and thought about becoming a doctor.  She utilized the HBI Foundation Scholarship Program to help pay for her LPN schooling.
Musu's experience as a Direct Care staff greatly influences her work as an LPN.  She had grown to love the people she works with as a DSP and continues to provide the same level of personal care for them, but now also helping them with their medical needs.  Some of these relationships go back many years.  She met two of the residents of Noble Court back when she worked at Brooklyn Park.
Musu received a $1,000 bonus and is a candidate for the 2023 Employee of the Year Award!
Homeward Bound's Employee of the Month Program started in January 2023 by popular demand from staff who shared ideas and concerns with HBI management at town hall meetings in Fall 2022.  The selection process is done via blind voting to ensure that the winner is selected only for the exceptional life-enriching care they provide to the people we serve!
Blog / Employee Recognition / Employee of the Month – January 2023