ART-Abilities 2019
November 5, 2019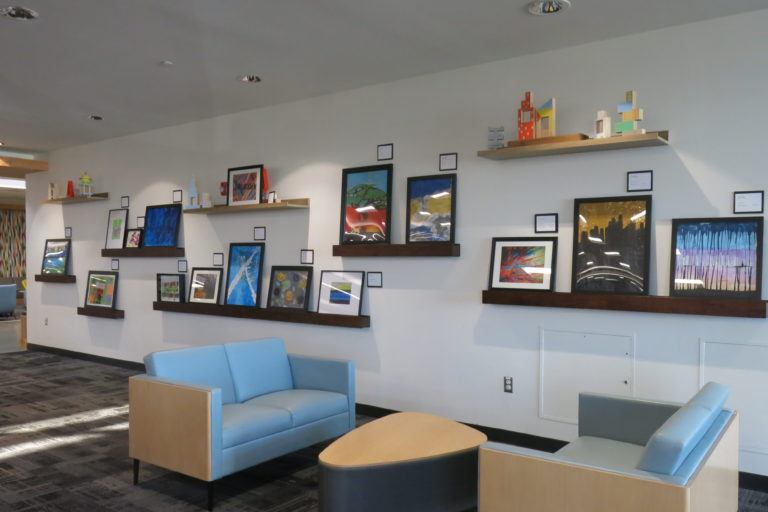 15th Anniversary of ART-Abilities
The 15th Annual Art Abilities Gallery event was on Saturday October 26th at the Ridgedale Library. Homeward Bound conceived ART-Abilities 15 years ago. ART-Abilities provides a way to showcase the talents of children, teens and adults of all abilities. The ART-Abilities Gallery is possible by the Hennepin County Library in collaboration with, The Association of Residential Resources in Minnesota (ARRM), Dependable, Inc. and The Friends of the Ridgedale Library.
Homeward Bound also partners on this event with other organizations serving persons with disabilities. These organizations and Homeward Bound submit art to the ART-Abilities Gallery. Twenty-Five pieces of art were celebrated at this year's art opening. In attendance were approximately 75 people; from artists, family, and friends. Homeward Bound, Dependable, Inc. and Opportunity Partners serve the area artists.
At this year's gallery opening, we were privileged to have Pianist Nathan Barclay as our guest presenter. Nathan is a self-taught musician from St. Paul who has been playing the piano since the age of five. Over the years' Nathan has developed a catalog of over 60 songs that he has learned to play by ear through hours of practice. Check out the photos from the gallery opening!
This year for the first time the art will travel! The art will be on display at the Ridgedale Library until November 19th. After that, it will then travel to the Golden Valley Library where it will be on display through the holidays.
Please take the time to visit the ART-Abilities Gallery at the Ridgedale or Golden Valley Libraries.
"Art teaches us to say what cannot be said." – Jessie Blissmer
Blog / Success Stories / ART-Abilities 2019