2018 Golf Classic Recap
September 7, 2018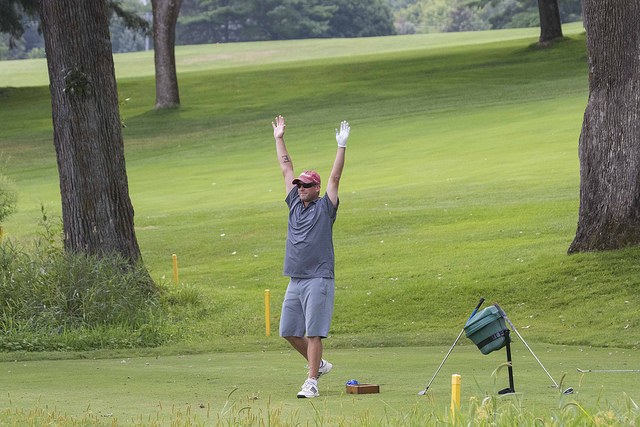 Brush off the Clouds
Grey clouds cannot keep our golfers down! Monday August 20th may have been a cloudy day but our golfers had a wonderful time and were all smiles.
Our 23rd Annual Homeward Bound Golf Classic was another great success due to our wonderful sponsors and volunteers.
First Place went to Scates Real Estate. Second Place to Northwest Suburban BNI and Third Place to the Prairie Island Indian Community.
Even with the clouds in the sky, the sun must have been shining on Ian Baumann who golfed with The Prairie Indian Community, got a Hole-in-One, and won a Club Glove Golf Travel Bag! (see his celebratory photo above!)
Our event host Dan Cole did a wonderful job keeping our dinner and program on track and making us laugh. Our speaker this year was Judy Herrig, cousin and guardian to Paul Isaacs who was served by Homeward Bound for 42 years. Judy did a supurb job conveying to our donors how important Homeward Bound's services were to Paul and their family.
Our 2018 Community Service Award Recipients were US Bank Home Mortgage and Jill Ties, Senior Vice President for US Bank Home Mortgage. For the past 13 years, US Bank and US Bank Home Mortgage have been great supporters of Homeward Bound donating over $40,000 to our important services. Jill Ties has been on our Foundation Board since 2006 and has been an important advocate for our services and especially our hard working Direct Support Professionals.
Thanks to all of our sponsors, especially Geritom Medical for the Premier Sponsorship! Thanks also to the golfers, dinner attendees, volunteers, and Corporate and Foundation Boards for all of your support.
That wraps up another great event. Please check out all the golf photos here!
Blog / Spotlight Stories / 2018 Golf Classic Recap