2017 Golf Classic Recap
September 7, 2017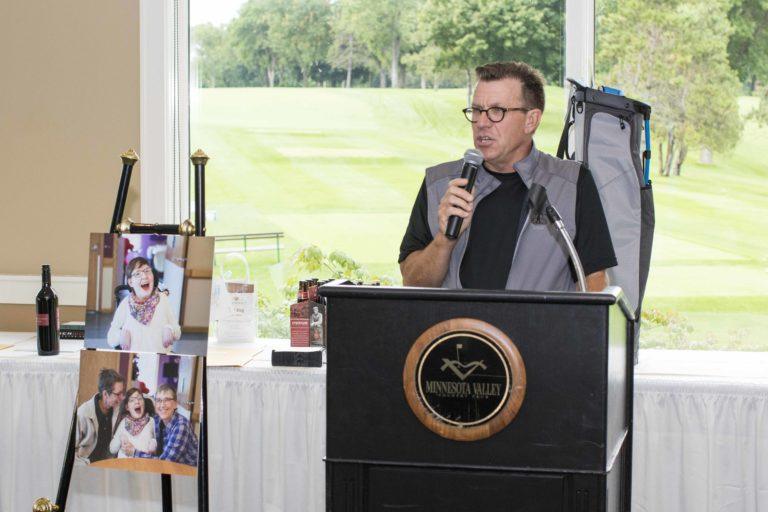 Record Year!
Homeward Bound recently held its 22nd Annual Golf Classic at Minnesota Valley Country Club in Bloomington. First of all, This is the part where I tell you we had a beautiful sunny day, but unfortunately this year was not the case. As most of you know, Monday August 21st, the big eclipse day, was cloudy and rainy. However, the weather did not stop our golfers. They were ready to complete their day of golf, no matter the conditions!
Parent speaker, Mary Halbrooks, gave a moving and eloquent speech. Ann, Mary's partner and their daughter Taylor attended as well to lend support. They all enjoyed an evening of good food and networking.
Kraus-Anderson received the 2017 Homeward Bound Community Service Award. Dennis Diessner, Executive Vice President/COO for Kraus-Anderson Insurance was on hand to accept the award. Dennis is a past Corporate Board Member for Homeward Bound and he gave a lovely speech mentioning the importance of our work with individuals with disabilities in our community.
Despite the rain, this year's golf classic netted the most ever, over $77,000! We did this with the help of our wonderful donors and sponsors.
Major Sponsors:
Geritom Medical – Premier Sponsor
Christensen Group Insurance – Gift Bag Sponsor
Xcel Energy – Cart Sponsor
Willis Towers Watson – Award Sponsor
Luther Automotive – Driving Range Sponsor
RGA Reinsurance – Major Cash Sponsor
D. Brian's Kitchen and Catering – Luncheon Sponsor
Kraus-Anderson – Major Silent Auction Donor
Lexus of Wayzata – Hole in One Sponsor
Chermak Consulting Services – Wine and Beer Tasting Sponsor
Parley Lake Winery and InBound BrewCo – Wine and Beer Tasting
Congratulations go to our tournament winners:
1st Place – Delta Dental of Minnesota
2nd Place – Peterson Real Estate Group
3rd Place – US Bank
Homeward Bound and those we serve with disabilities want to send a big thank you to these important donors and to all the others who sponsored and golfed in our event this year. Thanks as well to the individuals who attended dinner and to our many volunteers. Lastly, thank you to Dan Cole from KFAN Sports Radio for doing a wonderful job at hosting our event. See all the photos from this year.
Blog / Spotlight Stories / 2017 Golf Classic Recap